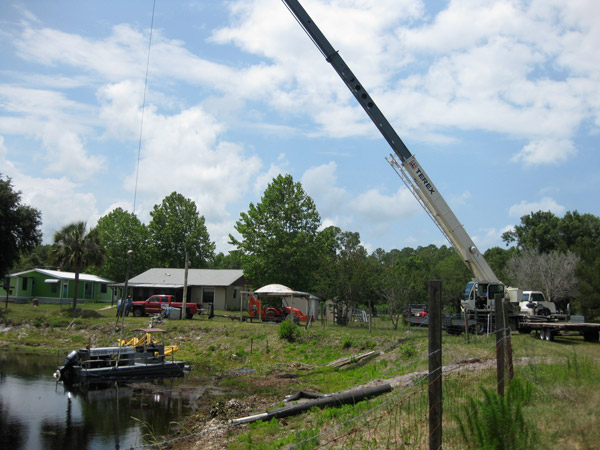 Doctor Dredge provides pond dredging services throughout the SE United States. The project pictured was a private ornamental pond outside Daytona. The Pond had been created 20 years before by the owner and his wife. He is a triple Purple Heart Veteran and his wife had recently passed. The pond had been a real point of joy and pride for them during her final years and the owner wanted the pond back the way it looked when he had dug it out with his brother and business partner.
Lack of through flow had stagnated the water. Gradual erosion combined with build up from organic material formed from the decaying remains of plants that were being sprayed 4 times a year, had made the pond a shadow of its former glory.
Doctor Dredge used a small portable crane to get both our a-frame work barge and dredge into the pond.
We formed a natural dam at one end of the pond with crushed rock and pumped the sludge behind it. The banks of the pond were cleaned up manually and an aeration system was installed with flock logs to keep the water clear of turbidity and algae. The results speak for themselves.
© 2016, Doctor Dredge LLC. All Rights Reserved.
Doctor Dredge, LLC

(877) 682-5688
2603 Industrial Avenue 2
Fort Pierce
FL
34946
Copyright www.drdredge.com 2023